The Laperva Triple Power pre-workout formula includes the best ingredients that increase the activity and vitality of the body. According to scientific research, the Laperva Triple Power pre-workout formula improves physical performance and provides energy throughout the training period as well as reduces fatigue thanks to its components that enhance the body's energy and performance for a period Long lasting, unlike other products, whose effect lasts for several minutes.
Features of Laperva Triple Power Pre-Workout
The Laperva formula combines explosive energy and fat-burning ingredients, thus increasing the body's ability to burn fat.
Breath easy TM feature that improves the breathing process and increases the amount of oxygen in the lung, thus improving the level of the body's performance and endurance capacity.
It contains ingredients that raise the energy level in the body, pump blood
improve the overall performance of the body, such as:
- Beta-Alanine: It is an amino acid that increases the level of carnosine in the muscles, which contributes to delaying muscle fatigue and reduces the formation of lactic acid in the body that causes muscle tension.
- Creatine monohydrate: It works to enhance muscle energy and increase their ability to endurance, as well as direct water to muscle cells, giving them a larger and larger appearance.
- Sertoline and L-Norvaline: Increases the production of nitric oxide by increasing the blood flow loaded with oxygen and nutrients to your muscles.
- N-Acetyl L-Tyrosine: It is one of the most important components of Laperva TriPle Power it is an essential component to supply the body with energy and contribute to supporting the levels of physical and mental performance of the body.
- Caffeine: to stay alert, alert, and active during exercise.
Laperva Triple Power Pre-Workout product is designed to enhance the burning of body fat by harnessing the energy of carnitine (an amino acid that contributes to converting fatty acids into energy) with green coffee bean extract that supports metabolism and chili extract that contributes to the breakdown of fats to produce energy.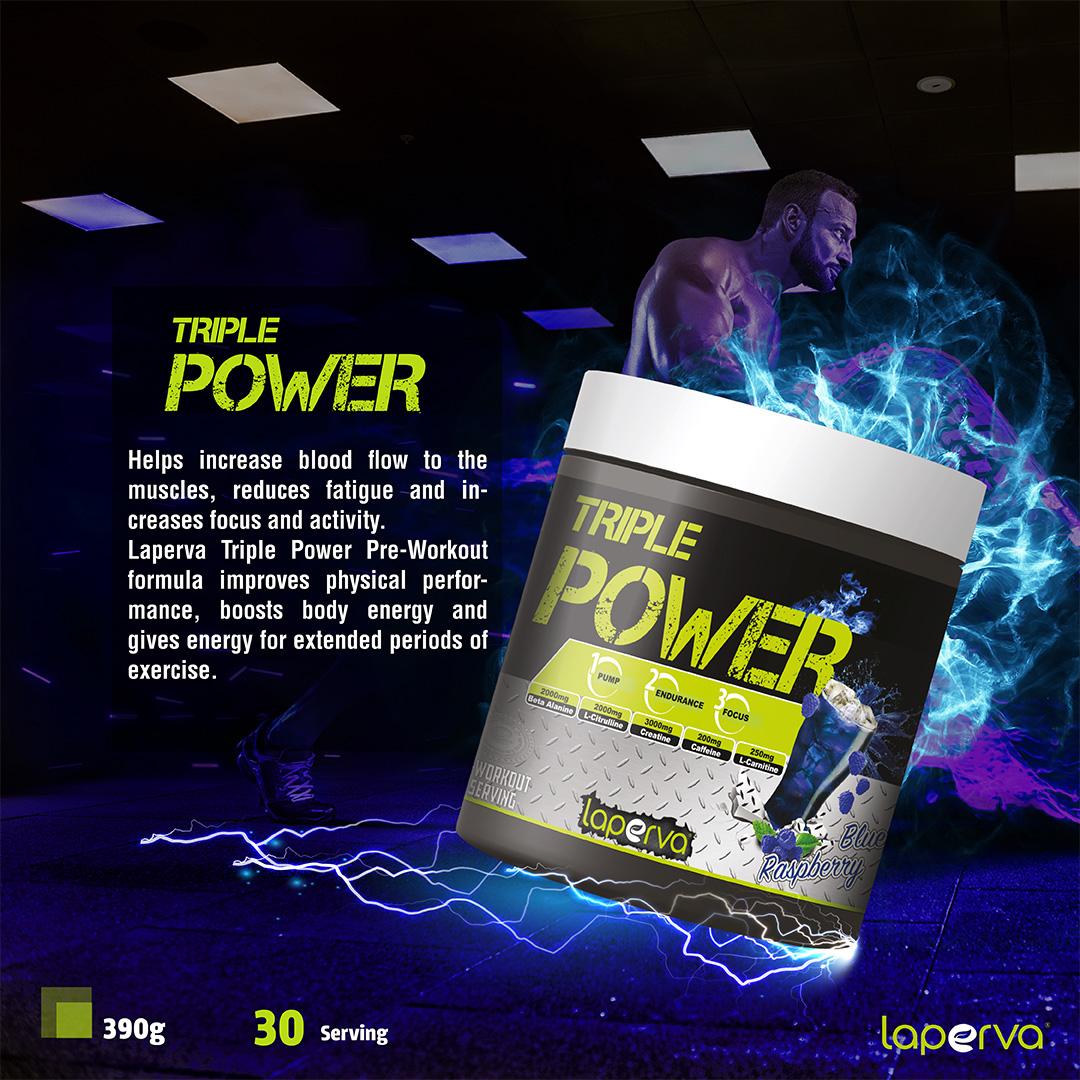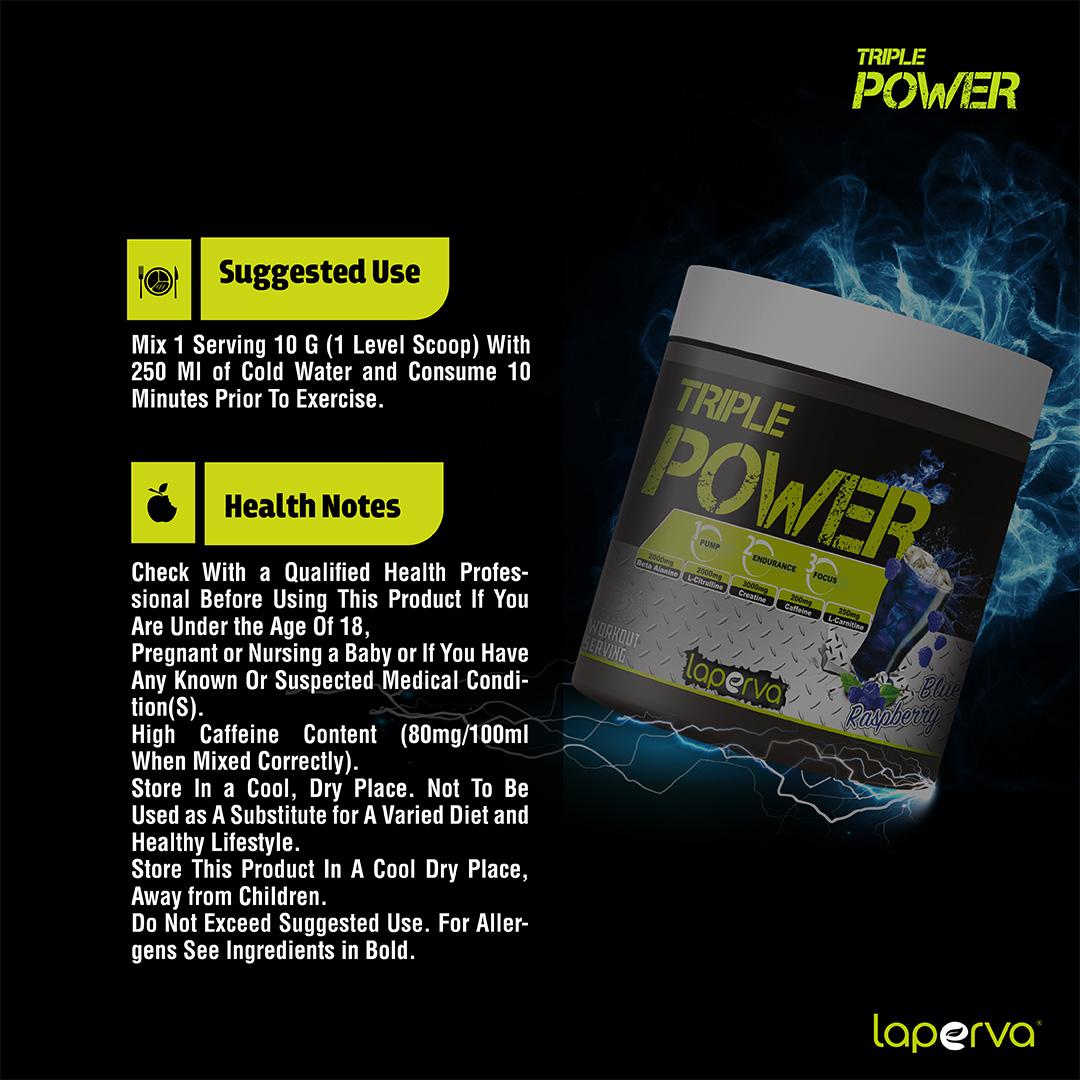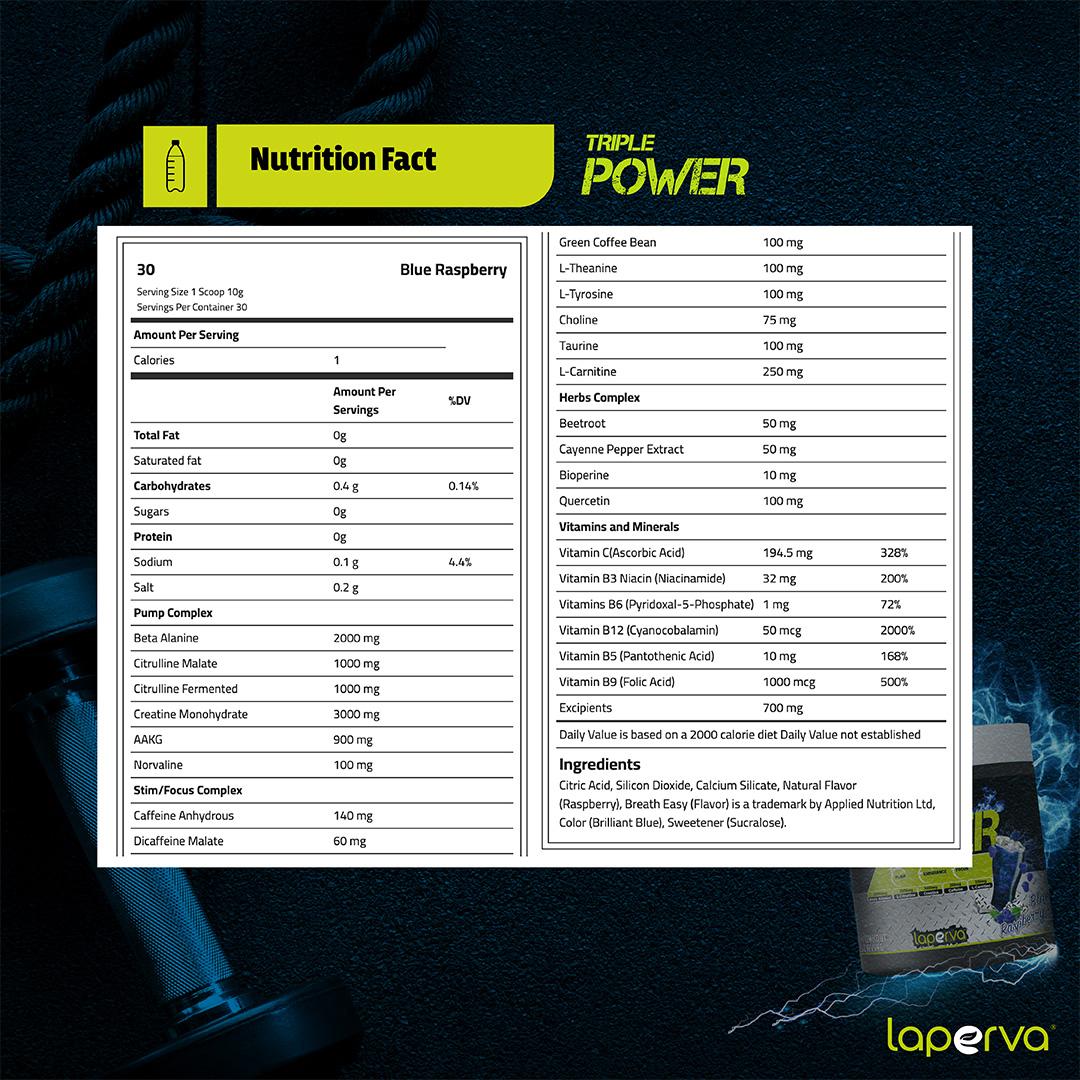 Mix 1 Serving 10 G (1 Level Scoop) With 250 Ml of Cold Water and Consume 10 Minutes Prior To Exercise.
Check With a Qualified Health Professional Before Using This Product If You Are Under the Age Of 18,
Pregnant or Nursing a Baby or If You Have Any Known Or Suspected Medical Condition(S).
High Caffeine Content (80mg/100ml When Mixed Correctly).
Store In a Cool, Dry Place. Not To Be Used as A Substitute for A Varied Diet and Healthy Lifestyle.
Store This Product In A Cool Dry Place, Away from Children.
Do Not Exceed Suggested Use. For Allergens See Ingredients in Bold.